Service Level Agreement
ISO Certificates
St. Raphael Hospital in Kraków is included in the Integrated Management System of Grupa Scanmed Multimedis, which is based on the requirements in ISO 9001, ISO 14001, PN-N 18001, ISO 27001, EN 15224, and ISO 31000.
St. Raphael Hospital in Kraków undergoes annually an external audit, and every 3 years there is a recertification audit; all within the certification supervision.
Integrated Management System Policy
The aim of Grupa Scanmed Multimedis is providing the highest quality of comprehensive healthcare, and strengthening its position on the healthcare market, and at the same time monitoring and limiting the organization's impact on the natural environment, as well as obeying work safety regulations.
These premises are fulfilled by implementing, keeping, and improving the Integrated Management System according to the guidelines of ISO 9001, ISO 14001, PN-N 18001, ISO 26000, ISO 27001, EN 15224, and ISO 31000.
Our strategy is aimed at a dynamic development of a network of our own outpatient and hospital facilities, and at the same time striving for complementary development of basic healthcare, specialist outpatient care, occupational medicine, dentistry, psychiatric care, ambulances, night and holiday care, diagnostic imaging, hospital treatment, one-day surgery, rehabilitation, sterilization, long-term nurse home care.
In order to achieve the above, we need to:
pay attention to customer satisfaction,
develop the offer of healthcare services,
encourage preventive measures and promotion of health,
improve medical personnel,
raise the awareness of personnel,
extend the modern medical and technical structure,
guarantee the safety of provided services especially through using a comprehensive risk management system aimed at preventing unwanted events,
manage efficiently and effectively the clinical processes and clinical risk,
care for employees by limiting hazards, providing the safest working conditions, at minimum professional risk,
improve Integrated Management System in terms of quality, environment, and safety,
be transparent in communicating with the environment,
conduct actions according to corporate social responsibility standards on the basis of ethical value,
protect the processed information,
conform to legal requirements,
care for the natural environment, especially by preventing pollution.
By employing experienced and professional healthcare personnel, we enhance our Integrated Management System, simultaneously identifying and fulfilling the needs of our patients. Our standards are the foundation for the value and market position of our group.
Accreditation Certificate of the Minister of Health
St. Raphael Hospital in Kraków acquired the Accreditation Certificate of the Minister of Health (no. 2011/1) certifying the accreditation standards met in terms of hospital healthcare for our hospital.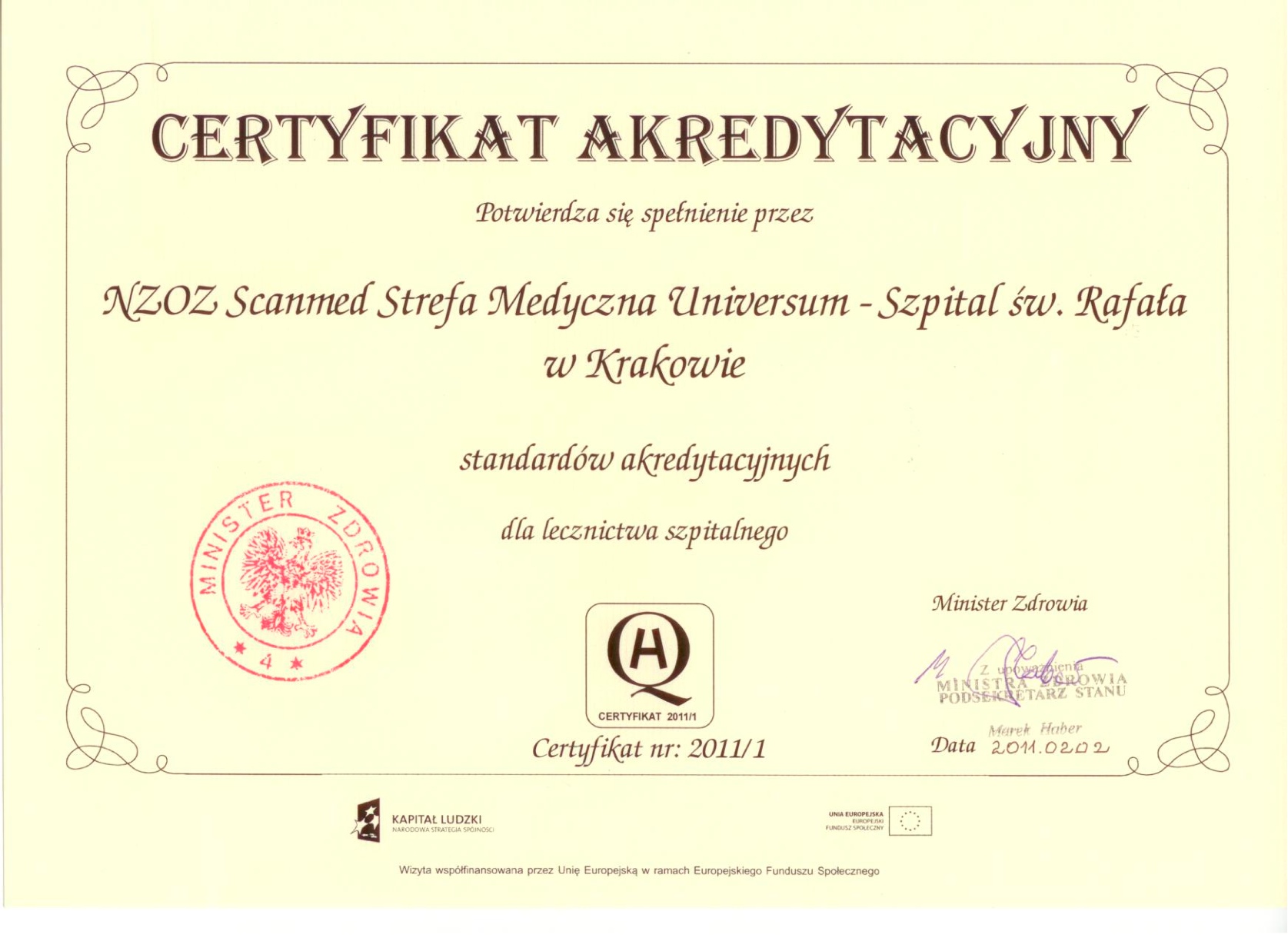 Accreditation is an external evaluation process of healthcare facilities based on public and systematized standards aimed at activities enhancing the quality and safety of patient care. It is a process well-proven and universally accepted worldwide.
Accreditation is given by the Minister of Health on the basis of a recommendation provided by the Accreditation Council, in the form of a certificate after an evaluation procedure of the healthcare provider. Accreditation is given for a 3-year period.
The accreditation visit took place from 17th to 19th November 2010. The visit evaluated whether our hospital fulfilled an array of specific standards for healthcare services and administrative functions.
Our hospital has undergone the accreditation procedure as a part of a project entitled "Support for the accreditation process of healthcare units" which is co-funded by the European Union as part of the European Social Fund.
Our hospital was evaluated at 88%, whereas the lower possible level was 75%. Currently, the accreditation certificate is owned only by 100 hospitals in Poland (as of 3rd March 2011). Our score of 88% gives us a spot in the first 20 of Polish accredited hospitals.
A set of accreditation standards for hospitals includes the following areas:
Continuity of care (CO)
Patient's Rights (PP)
Health Assessment (OS)
Patient Care (OP)
Infection Control (KZ)
Procedures and Anaesthesia (ZA)
Pharmacotherapy (FA)
Laboratory (LA)
Diagnostic Imaging (DO)
Nutrition (OD)
Quality Improvement and Patient's Safety (PJ)
General Management (ZO)
Human Resource Management (ZZ)
Information Management (ZI)
Care Environment Management (ŚO)